More than four years ago, the NLRB gave priority to an employee's right to wear clothing with messages critical of their employer over an employer's interest in its reputation with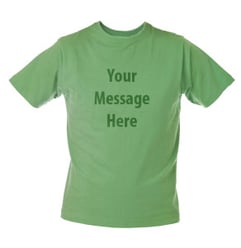 customers. In a case involving AT&T employees, the NLRB ruled that an employer violated the law when it prevented its service technicians, when visiting customer homes, from wearing a t-shirt critical of the company. My blog post on the original decision describes the t-shirt.
On Friday last week, the federal court of appeals in Washington, D.C. overruled the NLRB's decision. Noting that "[c]ommon sense sometimes matters in resolving legal disputes," the Court found that the prohibition on wearing the t-shirt was lawful. Accordingly, the employer was within its rights to suspend 183 employees for one day when they failed to comply with the employer's instruction to remove the t-shirt.
The Court reasoned that the law has always recognized a "special circumstances" doctrine which permits banning "union messages on publicly visible apparel on the job when the company reasonably believes the message may harm its relationship with its customers or its public image." While the employer has the burden of proof to establish these special circum­stances, the NLRB unreasonably failed to find that the employer met its burden in this case.
The Court noted that the company banned only employees who interact with customers or the public from wearing the shirt, and cited employer testimony regarding their concerns with the reaction of customers. As did the NLRB's dissenting member, the Court also noted a recent violent crime in the particular state involved that also motivated the company's action. Finally, the Court held that there was no requirement that the employer prove "actual harm" to its reputation or relationship with its customers.
The Court rejected the NLRB's argument that AT&T did not ban unprofessional clothing in an even-handed way. The NLRB noted that the company did not require service technicians to remove other t-shirts with questionable messages (e.g., a t-shirt that said "support your local hookers" and showed an image of a fishing lure and a t-shirt that read "Out Of Beer. Life is Crap"). The Court rejected this argument, however, noting that these other shirts were "not nearly as problematic" as the one at issue in the case.
The Court's ruling is good news for employers, particularly those selling directly to the public. It is important to note, however, that the NLRB has a history of declining to follow circuit court precedent with which it disagrees until the Supreme Court decides an issue. Thus, employers taking a position they believe is supported by the Court's decision should be prepared, if their position is ever challenged, for an extended legal battle with the NLRB.